Uber Scuuter LCD Display Panel
Regular price
Sale price
$50.00
Unit price
per
The LCD display of your Uber Scuuter is the brain and information center of your folding scooter. It's time to replace it if your screen isn't up to snuff.
Your LCD display shows all the information you could ever want. The two most important features included are the gear display and headlight. It can also tell you the temperature outside so you aren't left second-guessing when you hop on for a ride.
Want to know your phone battery without pulling out your phone? Just glance down at the display on your electric scooter. If your phone battery is getting low, then you can plug it in and charge it through your display.
You will also have all the standard functional displays including trip mileage, total mileage, cruise control, and brake display.
Any malfunction will also immediately display. You will know, right away, if there is a malfunction of the grip, controller, and motor. This provides an extra level of safety whenever you ride.
The Uber Scuuter Display has some really cool features; see what your phone battery is at, what the temperature outside is (even though you are outside), and the display has 2 of the most important functions, your gear options (1-4) and your headlight (so you can see at night).
Features:
- LCD Display Panel features
- Cell Phone Charging
- Start Speed Shift (1-4)
- Headlight (To let you know if its on/off)
- Single Trip Mileage
- Total Trip Mileage
- Cruise Control
- Grip Malfunction
- Temperature Display
- Brake Display  
- Battery Display
- Under-voltage Reminder
- Controller Malfunction
- Motor Malfunction
View full details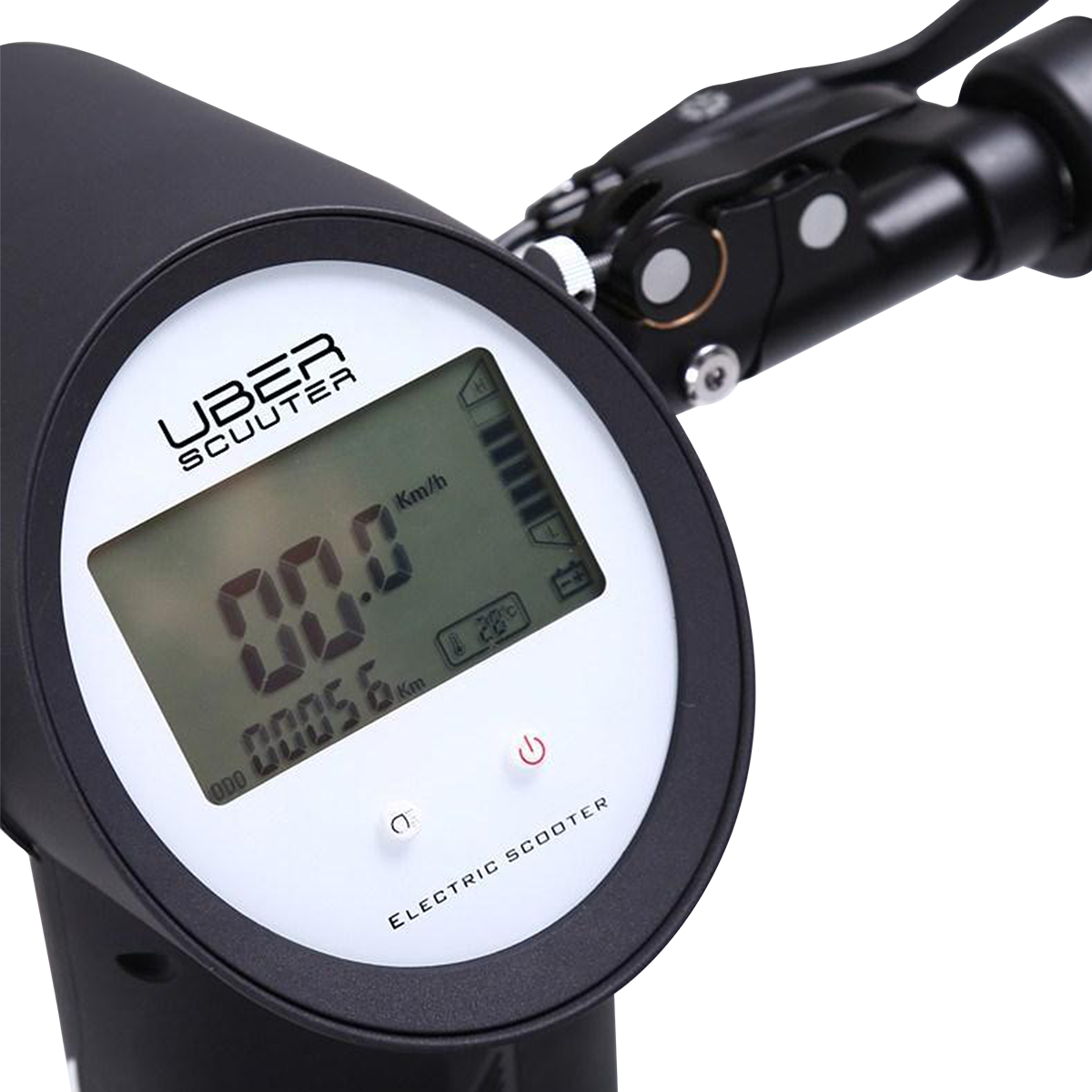 FAQ
Do you offer free shipping?
We offer free standard shipping for all continental U.S. Orders.
What is your return policy?
Your order will ship out of our warehouse within 1-2 business days.
What is your warranty?
We hold a one year warranty on all scooters and will replace parts as needed.
View all FAQ

Introducing Uber Scuuter Plus
The first of its kind: seated, electric, foldable scuuter that is powerful with long range in mind.